GulfCoat® Product Information
Specially formulated to reach deep into the heat transfer coil fins, GulfCoat® Contractor Series Coil Coating penetrates far into the fins to ensure total coverage. It is evenly applied with no buildup or oversaturation to clog vital portals and air passages.
GulfCoat® HVAC/R protective coating retards corrosion on the non-ferrous metal fins and tubes, thus extending the life of the equipment asset and helping to maintain good air flow efficiencies.
Numerous salt chamber tests using ASTM B-117 have proven GulfCoat® as "Shark Tough." Coated aluminum fin stock was subjected to well in excess of 3,000+ hours in the salt spray chamber and exhibited no degradation due to corrosion.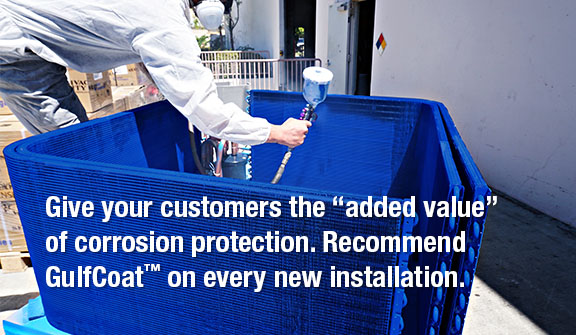 GulfCoat® is a water-based (solvent-free) and water reducible synthetic flexible polymer coating engineered specifically for HVAC/R heat transfer coils, components, and cabinets.
GulfCoat® is designed to be applied at your business facility or on location – whichever suits your needs.
GulfCoat® requires no special training or application instructions.
GulfCoat® will reduce or eliminate corrosion and extend the life and efficiency of the HVAC/R equipment with proper and regular maintenance.
GulfCoat® offers superior coverage, outstanding formability, and excellent edge protection.
GulfCoat® is available in several colors, touch-up sprays, and system cleaners.
GulfCoat® is readily available. You can find GulfCoat® at many HVAC/R Dealers or from our online store.
GULFCOAT® IS FOR PROFESSIONAL USE ONLY
Protect Expensive HVAC/R Equipment from Corrosion!
Gulfcoat® is Test Proven
An efficient system provides better indoor air quality and can save in energy costs and extend the operating life of the HVAC/R equipment and system. This is true for any environment, but is particularly evident in coastal salt spray environments, arid desert environments, or around heavily industrialized exposures.
Anywhere corrosive environments are evident, this will shorten the life expectancy of HVAC/R equipment. GulfCoat® can be applied to equipment before installation or in the field post-installation with equal success. Energy savings and asset longevity make GulfCoat® a contractor's best choice.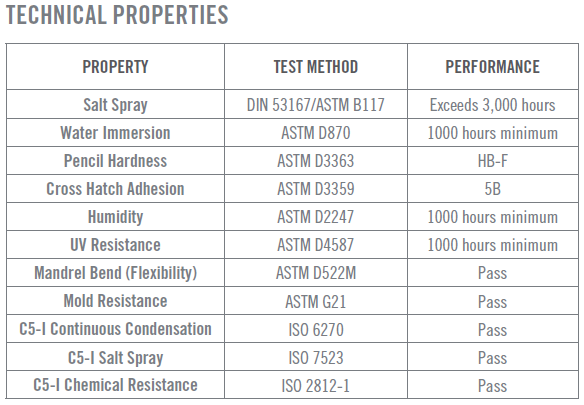 GulfCoat® Product Information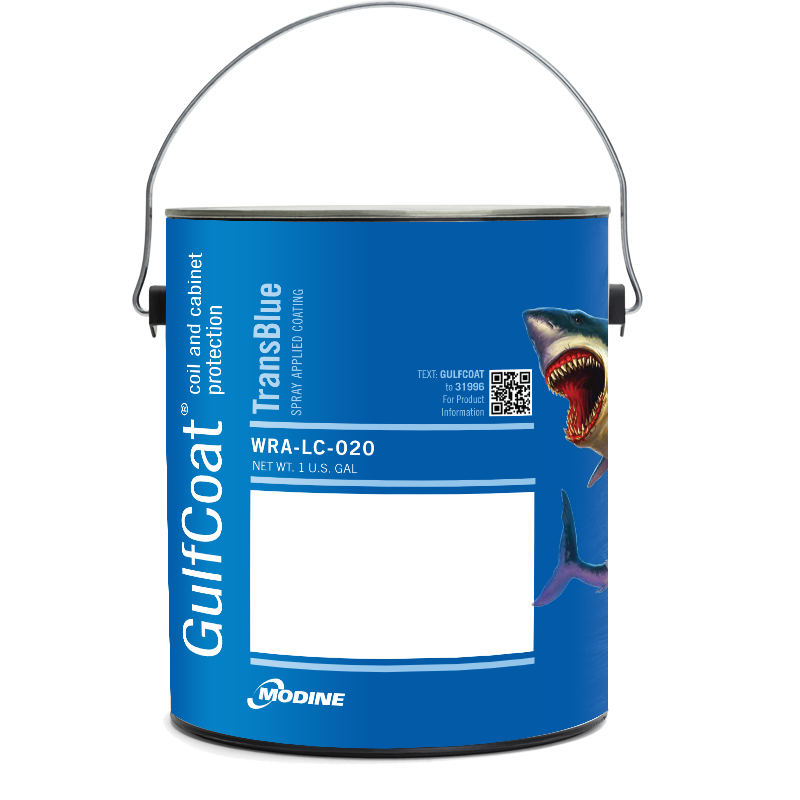 Product Number
WRA‐LC‐020, WRA‐0C-030/GL, WRA-YC-031
Product Name
TransBlue, TransGold, GulfCoat® Gold
Physical Properties
Viscosity: 30 +‐ 5 seconds #3 Zahn Signature @ 78F
60+‐ 10 seconds Ford #4 @ 76F (CA Technologies P#97‐9101)
Weight: 8.56 +/‐ .15%
Gloss: 60º: 85+ Minimum
Solids: Weight: 32.12 +/‐ 2%
Volume: 30.14 +/‐ 2%
Grind: N/A
Flash Point: 201°F
Coverage: Sq.Ft/Gal (flat work).: 355 @ 1 Dry Mil. (Assuming No Loss)
Coverage: Sq.Ft/Gal (coil face area).: 50 @ 1 Dry Mil. (Assuming No Loss)
V.O.C. LB/GL: 0.34 Including water, 1.00 Excluding water
pH: 8.0‐8.50
Method of Application: Spray (mix well before and during application)
Application Temperatures: Minimum 55oF – Maximum 100oF
NOTE: Temperature must be 5 Degrees above dew point prior to spraying
Cure Temperatures: Minimum 55oF – Maximum 120oF
Cure Method: Air Dry
Reductions: None
Clean‐up: Water when wet, acetone if dry
Comments
Do not allow product to freeze
Meets RoHS and REACH requirements Resistance to: Corrosion Resistance
GulfCoat® Contractor Series Coil Coatings have a robust synthetic multi-polymer resin backbone that is suitable for most environments and will maintain its appearance after many years exposure to the elements.
UV Degradation
Built-in enhanced UV inhibitors form a protective barrier throughout the paint film. As a result, UV degradation of individual polymer molecules are reduced, and the film integrity maintained.
Gloss Retention
A high gloss finish is applied that is smooth, limits dirt and debris buildup, and allows for easy equipment cleaning.
GulfCoat® Coatings are water-based and water-reducible synthetic flexible polymer ant-corrosion coating specifically designed for the protection of HVAC/R components and cabinetry.
GulfCoat® is formulated to improve adhesion, moisture resistance, UV protection, and corrosion resistance. 
Specifications
Heat exchanger (HX) coils shall have a water-based synthetic polymer coating spray-applied with no material bridging between fins. The spray coating process will ensure a uniform dry film thickness of 15-30 μm (0.6- 1.2 mils) and meet 5B rating crosshatch adhesion per STM D3359-09. Corrosion durability will be confirmed through testing to no less than 5,000 hours salt spray resistance per DIN 53167 (ASTM B117-11) using aluminum and /or copper test coupons. 
Applications Ideally Suited for GulfCoat®
Heat Exchanger Coils (water, condenser, evaporator, DX)
Mini-Splits
Packaged Rooftops
Condensing Units
Modular Air-Handlers
Air-Cooled Chillers
Contact Us to Learn More.