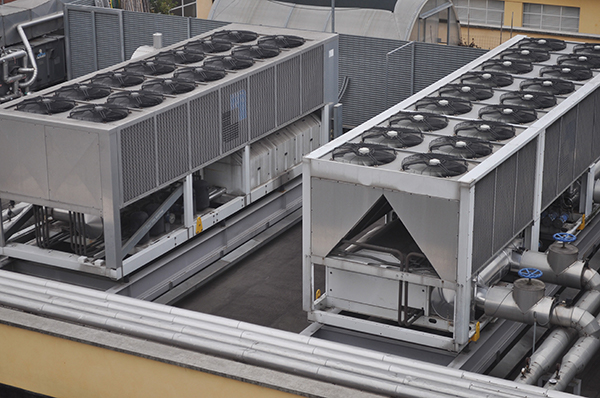 Extending the service life and heat transfer efficiency of HVAC/R systems – Electro-deposition coating (e-coat) is a premium alternative to polyurethane and phenolic coatings and provides long-term corrosion protection for outdoor HVAC/R equipment in coastal (marine), industrial, urban, or highly alkaline environments. In addition, e-coat provides protection for equipment in certain indoor environments, such as swimming pools, industrial process facilities, and waste water treatment plants.
ElectroFin® E-Coat protects your equipment investment by extending service life and energy efficiency performance, thereby lowering lifetime operating costs. Unprotected HVAC/R round-tube plate fin (RTPF) and microchannel heat exchangers (MCHE), radiators, condensing units, and fans exposed to salt air, corrosives, or acid rain will begin to oxidize within the first few months of operation. Corrosive attack typically starts at the copper tube aluminum fin interface on the RTPF design and at the header extrusion connection on the MCHE design, causing thermal performance to decline swiftly. Performance decreases of up to 30% within 6 months are not unusual.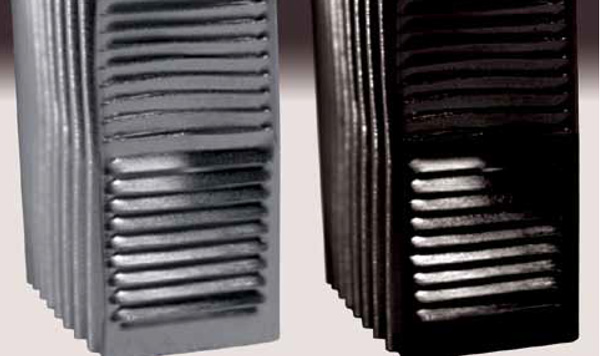 Unlike brittle, baked phenolic coatings that can crack, chip, peel, and become lodged in the fins, e-coatings remain flexible. ElectroFin® E-Coat can expand and contract as the unit operates, allowing bent fins to be straightened without compromising protection. ElectroFin's formula also features high-edge-build, providing excellent adhesion on sharp surfaces.
When comparing protective coatings, look for the longest warranty available. ElectroFin® E-Coat is warranted to be free of defects in materials and workmanship for five years, provided coils and components are properly and routinely maintained, and records demonstrate proper cleaning procedures and approved products were used. What performance standards does ElectroFin® E-Coat meet or exceed? Protective coatings, whether phenolic, polyurethane, or e-coat, must meet industry minimum standards. However, ElectroFin® E-Coat demonstrates exceptional technical properties in ASTM, DIN, and MIL-STD testing for resistance to thermal loss, UV degradation, and moisture intrusion. Continuous testing is carried out to assure that performance continues to meet or exceed established standards.
ElectroFin® E-Coat also resists 90 different chemicals — many more than phenolic coating. In addition, ElectroFin® E-Coat exhibits excellent adhesion to all of the most common metallic heat transfer surfaces, including copper, aluminum, and galvanized and stainless steel – assuring a long operating life for its protective properties.
Technical Performance
| Property | Test Method | Performance |
| --- | --- | --- |
| Color | | Black |
| Dry film thickness | ASTM D7091 | 0.6-1.2 mils |
| Gloss – 60 degrees | ASTM D523-89 | 65 – 90% |
| Pencil Hardness | ASTM3363-00 | 2 H minimum |
| Water Immersion | ASTM D870-02 | >1000 hours at 100 degrees F |
| Cross Hatch Adhesion | ASTM D3359-97 | 4B-5B |
| Impact Resistance | ASTM D2794-93 | 160 in./lbs. direct |
| Salt Spray | ASTM B117-97 | 10,000 + hours |
| Humidity | ASTM D2247-99 | 1,000 hours minimum |
| Durability | – | Very flexible, consistent film |
| Heat Transfer Reduction | ARI 410 | Less than 1% |
| Bridging | – | No bridging guaranteed |
| Coating of Enhanced Fins | – | Up to 30 fins per inch |
| pH Range | – | 3-12 |
| Temperature Limits | | -40 degrees F to 325 degrees F |
Contact Us to Learn More.